Open Studios 2nd – 3rd September 2023
Old Cattle Market, Captain's Place,​ Southampton S014 3FE
​We will be opening our studio doors for one weekend only 2nd – 3rd September along with ​the Arches ​Artists Studios.
Come and see where it all happens, where printing plates are made and printed, thought about, celebrated or reworked.
On display and for sale will be a selection of new works including abstract etchings, framed collages and greetings cards. There will also be a display of works by Arches Artists and Lino cuts and Greetings cards by Eddie Curtis.
Times: 10am – 5pm
Venue: ​Old Cattle Market, Captain's Place,​ Southampton S014 3FE
Nearest parking: College Street Car park, Southampton, SO14 3DZ
---

Sir Harold Hillier Gardens August 2023
Jermyns House, Jermyns Lane, Romsey, SO51 0QA
Come and see a selection of my new work at this exhibition in August at Sir Harold Hillier Gardens near Romsey, Hampshire.
I will be showing a selection of new works including abstract etchings and collagraphs in this exhibition aloneside printmakers from Cowprint Artists group.
---

Bainbridge Print Open June 2023
The Handbag Factory, 3 Loughborough St, London SE11 5RB
I'm really pleased to have my work selected for the Bainbridge Print Open particularly as the selectors were Eames Fine Art Gallery and Artist/Printmaker Ian Chamberlain

The Preview is Wednesday 14th June and the exhibition continues until Saturday 24th June.
---
LOOP 2022 – Artists in Print
Bankside Gallery 48 Hopton Street, London SE1 9JH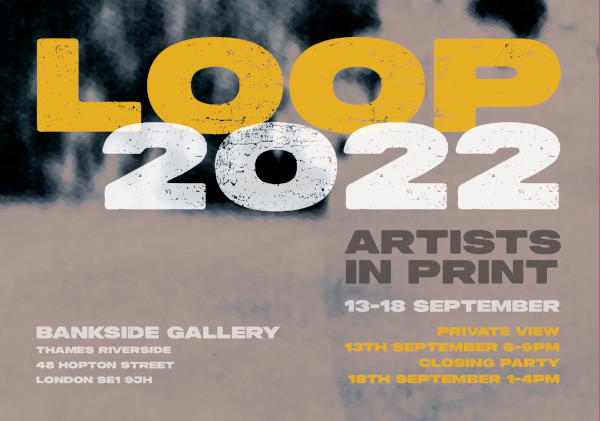 Open daily 11am – 6pm (except Sunday until 4pm)

Closing party Sunday 18th September 1 – 4pm
Oxmarket Contemporary Open Exhibition 2 – 28 August
St Andrew's Court, off East Street Chichester, West Sussex PO19 1YH Hampshire Open daily 10am – 4.30pm (closed Mondays)
I'm pleased to hear that this etching "Edge" will be in this years Oxmarket Contemporary exhibition.
The Private View is on Tuesday 2 August 6pm – 8pm and the exhibition continues until 28 August.
In and Out of the Frame – 19 May – 1 June
Jackhouse Gallery 121 High Street, Portsmouth PO1 2HW Hampshire Open daily 11am – 5pm
It's been a year in the planning and many many zoom conversations. But here we are at the inaugural exhibition of The Five. A group of Artists from across the UK brought together by our interest in making, materials and process.
Works by myself and Francheska Pattison, Sinclair Ashman, Consuelo Simpson and Kay Senior are on show. You will be able to see Ceramics, prints – both in and out of the frame as well as sculptural and instillation pieces.
Inspirational Women Artists Exhibition – 26th February – 6th March
God's House Tower, Town Quay Road, Southampton, SO14 2NY
This exhibition run by 'a space' arts invited artists to produce an artwork inspired by an inspirational female artist. My piece entitled The Means to Earn and Create is inspired by the work of Prunella Clough. These giclee reproductions are available to purchase here.
The original print in a limited edition of 10 prints are also available to purchase here and will be displayed along with other new work at Printfest 2022 Ulverston in May.
Palais des Vaches Exbury, Hampshire. January 2022
I am delighted to have my work in this fabulous new exhibition space and venue. Palais des Vaches (cow palace) has been lovingly restored as a lockdown project by the owners. The result is a light and airy, contemporary exhibition space.
This exhibition in collaboration with The Coastal Gallery in Lymington includes paintings, fine art prints, sculpture and ceramics.
The exhibition is open to all on Saturday 30th October 11am – 4pm and after that by appointment.
Directions: To get to the Palais, travel to Exbury village using the postcode SO45 1AE and keep a look out for the bright yellow Palais signs.
Parking: There is free parking at the venue.

Stockbridge Town Hall High Street, Stockbridge, Hampshire 21st – 30th August 2021
I've been busy printing some more of my Dynamic Order prints after the healthy sales of these images at my exhibition at Sir Harold Hillier Gardens in June. These will be exhibited in Stockbridge Town Hall from Saturday 21st – Monday 30th August. Do come along and say hello if you are in the area.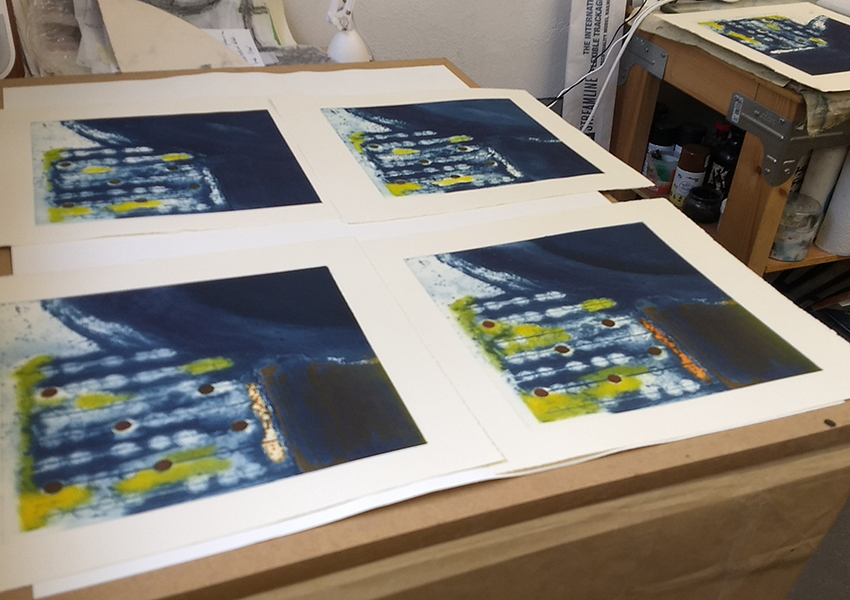 Red Hot Press Printmakers 2021 Sir Harold Hillier Gardens May – June 2021
I will be exhibiting new work as part of Red Hot Press Printmakers 2021 in May and June. The exhibition is at Sir Harold Hillier Gardens, Jermyns House, Jermyns Lane, Romsey, SO51 0QA.
The exhibition starts on Tuesday 18th May and runs until Sunday 13th June 10am – 5pm each day.